Embedded terminal
For management of increasingly efficient print fleet, particularly in terms of privacy and security, user authentication, prior to any action on the multifunction is an important factor to take care. GESPAGE allows multifunction blocking functions via an external terminal or software embedded in the MFP. Before to make a copy, the user must identify himself. This will link the job carried out to a user and/or service to create analytical reports and statistics.

With Gespage solution, an embedded device or "eTerminal" is software, installed directly on the printer or multifunction, performing functions that are natively available.
Identification of users by different ways:

Login / password.
Print code.

Selection or removal of jobs to print
Individual release jobs or global release.
Jobs to print payment.
User's credit visualization.
Access the copy function control.
Scan to email.
Activity management (project code).
Management of copies.
Management of quotas or not.
For printing, jobs sent by users will be holding on the server until Gespage release by one of the methods listed above. Access control and job management are managed by the Embedded terminal. This serves to block access to the copier. To print or make copies, users must identify themselves either with their network account with a PIN code or a badge. Once authenticated the user will see a list of his jobs on hold and can select one or more or all and have them printed.
The software Gespage is independent of the manufacturers, it allows to homogenize a heterogeneous fleet of MFPs and printers. This unification is possible especially by using different eTerminals.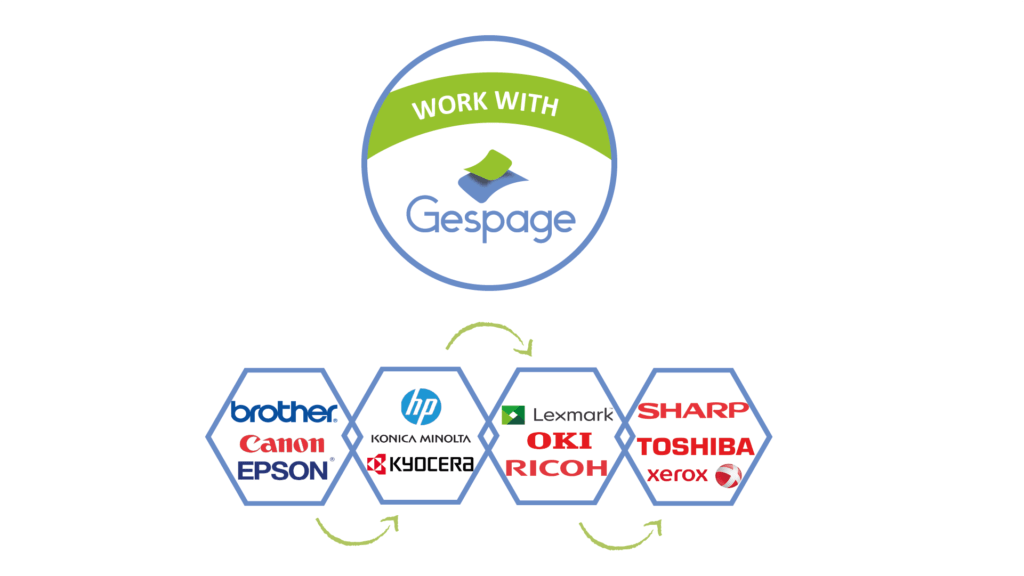 For more information, contact us